Curaçao Taxi & Vip Service

Cell:005999-5695555
Cell:005999-5697777
Off:005999-4659292
Fax:005999-4659224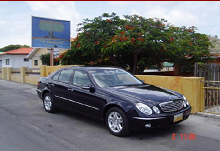 Ok Call us or e-mail us and we will pick you up at the Airport by one of our Mercedes Benz Taxi's.
We have mini vans that can carry 9 pass or maxi bus for 25 passengers all with a.c. -All our drivers are confidential.We do sightseeing and also one day,city,east or west tour.E-mail us.
Have @ nice vacation @ Curaçao.
Curaçao Taxi & Vip Service is a couple run business, wich has been safely operating since 1990.We pride ourselves in providing a personalized service for all our clients,whether it be a small party of one or large party of 25 & 49,all are catered for with the same attention to detail.Established as a specialist in mini bus tours and Taxi Service for over seventeen years,Curaçao Taxi & Vip Service has developed a reputation based on service,reability and value for money.We are specialize in providing safe,efficient transport for all your social occasions.We have friendly knowledgeable drivers & tour guides who speak fluent
ENGLISH & DUTCH & SPANISH.

With vacation to curaçao?